For years, Wyncroft customers have asked us about producing a selection of high-quality Michigan wines to enjoy every day. Wines available by the bottle at a nearby retail store, or to sip by the glass at your favorite bistro. Wines that carry the Wyncroft pedigree and quality commitment, but don't require cellar aging and are priced to enjoy anytime.
That's why, starting with the 2013 vintage, we've created Marland wines.
Like Wyncroft, Marland wines begin with 100% vinifera grapes from Southwest Michigan's Lake Michigan Shore appellation. We source our grapes from several of the area's top vineyards whose owners meet our requirements for growing practices and low crop yields. Then we carefully craft small batches of wine, in styles that allow you to enjoy them while young, both on their own or with food.
We invite you to try Marland Sauvignon Blanc/Semillon, Chardonnay, Pinot Grigio, Late Harvest Riesling (slightly sweet), Rosé of Cabernet Franc, Pinot Noir, Cabernet Franc and our red Bordeaux-style blend.
Find Marland Near You
High-quality Michigan wines to enjoy every day. Available in stores and by the glass in many fine regional restaurants.
MARLAND SAUVIGNON BLANC/SEMILLON
A classic blend reminiscent of the Bordeaux region of France, this wine is made from our own estate grown fruit. Fermented in stainless steel tanks over the winter months, then filtered and bottled in February while still cold to capture the freshest aromas and flavors; grapefruit, lemongrass, lime, white peach, and green fig are carried on a silky medium body crescendoing to a lasting finish.
MARLAND ROSE OF CABERNET FRANC
Produced in the classic "saignée" method, (bleeding of juice from a red wine), this is a serious, full-bodied dry wine. No blush this, the rich, luminous, fuchsia-pink color is intensely aromatic and mouth-wateringly refreshing; red currant, raspberry, roasted sweet red peppers, wild strawberries and rose petals.
MARLAND LATE HARVEST RIESLING
Styled after the german tradition of a "Spatlese" Riesling, the wine has a lightly perceptible sweetness which is balanced by the zesty liveliness of the grape's inherent acidity that is both refreshing and invigorating; fresh peaches, mandarins, apricots and slatey minerals.
Aromatic and charming, this wine is patterned after the delectable wines of the Italian Alps. A mélange of pink grapefruit, white peaches, and pineapple overlay a slight minerality. Zingy and refreshing.
Intentionally vinified to belie its youthful character, this wine is perfumed, charming and precocious. A dark garnet, medium body is filled with spicy red cherries, plums, cranberries, brown spices and earth.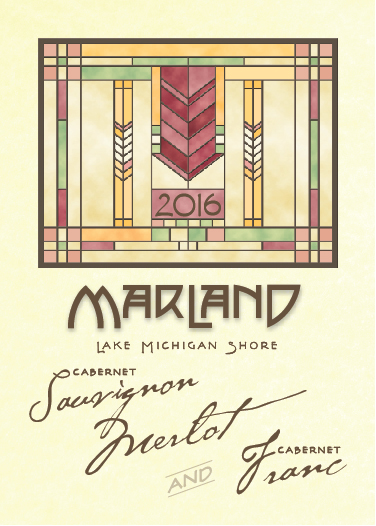 MARLAND CABERNET SAUVIGNON/MERLOT/CABERNET FRANC
Fashioned after the village wines of Bordeaux, this wine is a rich and satisfying blend of three of the five red grape varietals permitted in a Bordeaux wine. Vinified to moderate the tannins, this wine pleases the palate without requiring excessive aging. Black currants, plums, and violets are plush and gulp-able.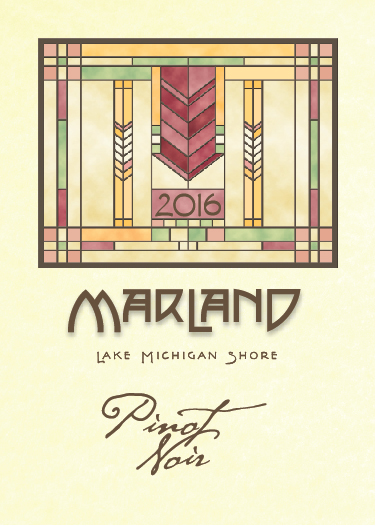 Resembling the Pinot Noirs produced in the cooler climes of Burgundy, our Lake Michigan shorelines are complementary to the growing vagaries of this grape. Vinified to produce soft tannins, this wine is elegant and pleasing in the glass; pie cherries, pomegranates, red currants, tea and spices.